Voting Information
There are three ways to vote:
The Warnock campaign encourages you to vote early.
You can also vote on Election Day.
Or you can Vote By Mail.
---
Voter Registration Deadlines in Georgia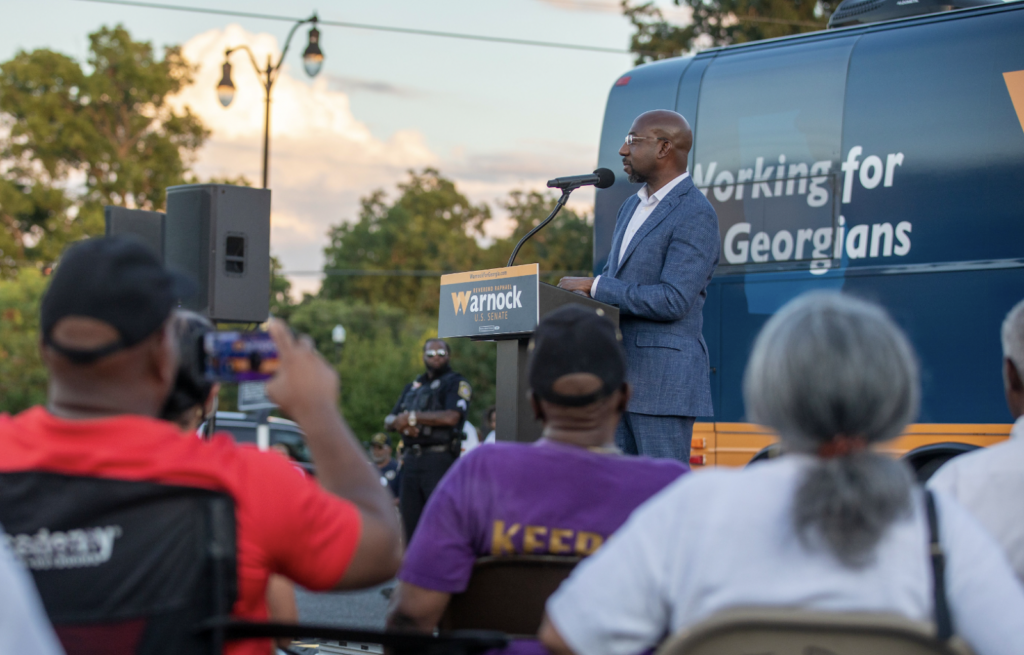 The General Election is November 8. Check today to ensure your voter registration is up-to-date!

Help your community get ready to vote too – share this page of voting resources with anyone that's making their voting plan as well.
Online/In-person registration deadline: Tuesday, October 11, 2022
Register by mail deadline: Must be postmarked by Tuesday, October 11, 2022
---
Key Election Dates
August 22: First day to request a vote-by-mail ballot
October 10-11: First day vote-by-mail ballots mailed*
October 11: Last day to register to vote
October 17: First day to vote early in person
October 22 & 29: Saturday early vote in person (select counties have Sunday voting on October 23 and/or October 30)
November 4: Last day to vote early in person**
November 8: Election Day!
*Note: Counties may start mailing ballots on October 10, but since this is a holiday many counties anticipate beginning to mail ballots on October 11.
**Vote-by-mail ballots must be received by 7 pm.
Questions about voting? Call or text the Georgia Voter Protection Hotline at 888-730-5816
---
Early Voting
Vote early in person from October 17 through November 4. You can vote at any early voting location in your county. Find voting locations here.
Early Voting is available Monday through Saturday in every county and Sunday in some counties.
The sooner you make an early voting plan the better! Make sure to talk to your family, friends, and neighbors about their plans too.
Questions about voting? Call or text the Georgia Voter Protection Hotline at 888-730-5816
---
Election Day
Election Day, November 8, is the last day for Georgia voters to get out there and vote!
The polls will be open from 7 am to 7 pm.
Check your voter registration today to ensure that it is up-to-date so that you'll be assigned to the correct Election Day polling location*.
*Polling locations may change; make sure to check your polling location before heading there in November! 
Questions about voting? Call or text the Georgia Voter Protection Hotline at 888-730-5816
---
Vote By Mail
Request your mail-in ballot today! All Georgia voters can cast their ballot from the convenience of their homes.
The last day to submit a Vote By Mail (VBM) application is Monday, October 28. Please, make sure to follow each step below carefully to ensure your request is processed smoothly.
Print out, complete, and sign the application. Here's an example application with directions and information on each section. You must print and physically sign the application by hand. Download and print an application here!
Make sure you fill in the date of the election, November 8, 2022, your name, your voter registration address, and if you need your ballot mailed to a different address, your ballot mailing address, and your birthday and Georgia Driver's License or State ID number.
If you do not have this ID information, you can attach a copy of another acceptable form of ID (listed on the application), such as a passport.
Be sure to fill in your phone number and email on line 6 in case the elections office needs to call you if there are issues with your application.
You must sign the application by hand using a pen.
Return your signed application to your county elections office today. First, find your county elections office's contact information on this website. Then, you have two options:
Recommended Method: Scan or take a picture of the form and email it as a PDF to your county elections office.

Mail the application to your county elections office, or drop it off there.
Confirm that your application was received and accepted by going to your My Voter Page. It may take a few days for your application to be processed. If it's been more than a week, check back with your local county elections office for an update.
Ballots will be mailed starting October 10-11. Upon receiving your ballot, complete it and return it.

• Recommended Last Day to Return a VBM Ballot via mail: Monday, October 31
• Recommended Last Day to Return a VBM Ballot via Dropbox: Friday, November 4
• Final Days to Return a VBM Ballot via In-Person Drop-Off at County Elections Office: Monday, November 7 and Tuesday, November 8 (Election Day)
Questions about voting? Call or text the Georgia Voter Protection Hotline at 888-730-5816
---
Military and Overseas Voters